As the catamaran edged out of the marina and slowly gathered speed, I pulled my camera from my bag and adjusted the settings, checking to ensure it was calibrated to suit the conditions. This expedition into Hervey Bay waters offered a new photography challenge and I hoped to capture something epic. However, once on board I discovered I'd forgotten to pack a neck strap and spare batteries, both recommended gear for an adventure like this. At that moment, as The Professor, my travel buddy, passed me an instant coffee and took two steps backwards, I may have said a bad word.
It was mid-October, the tail-end of the whale watching season when the males and extroverted calves have long-gone, leaving mostly protective mothers and their juveniles to entertain the tourists. Even these stragglers were few and far between on the day we ventured seaward. We cruised for at least an hour with no signs of marine life beyond the occasional seagull. All patrons were on deck, clutching hats and squinting, scouring the ocean for signs of our quarry.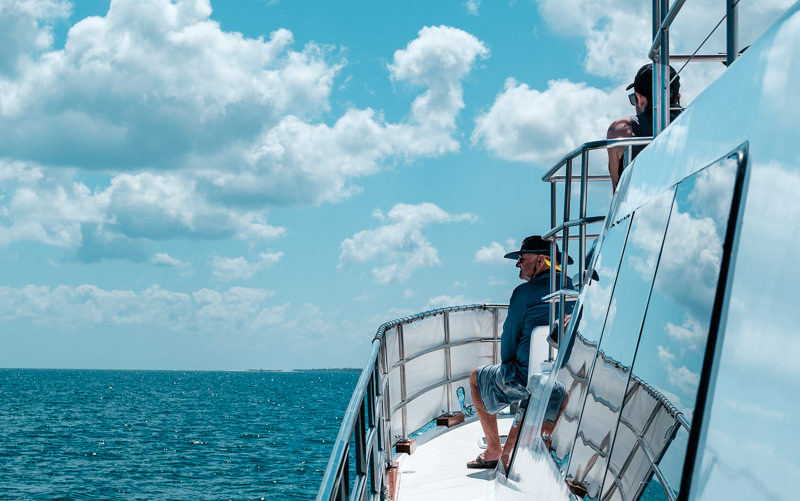 The captain updated us over a muffled p.a. system as he shifted gears and direction, throttling towards distant flotillas of sightseeing boats gathered in promising clusters. He told us about the humpback whales we were chasing, their migration patterns and mating habits, behaviour we might marvel at once we found them. I drained a lot of my precious battery with trigger-happy attempts to capture what I imagined to be slapping tails and flumes of whale spray in the distance. As a photography session the morning was a bust.
Not that I minded. Despite initial dismay at forgetting my kit, just being on a boat, with no responsibilities beyond casting an eye across the water from time-to-time, was deeply relaxing. There were enough clouds in the sky to turn the ocean turquoise and keep the sun from biting too deeply. The water was calm and the throbbing diesel engine lulled me to peace. Perhaps the day's simple purpose and consuming nature were reward enough, a welcome respite from the nagging anxiety colouring this year.
I haven't much to complain about on that front. My family's lucky. We've lived through the turmoil together, working and studying remotely from the same house. Even so, my big girls, who've been yanked away from their lives in Melbourne and New York, are sad. They're lonely and adrift. Months of juggling laptops from the sofa and staying connected through virtual threads have taken their toll. As for The Professor, after a mandated shutdown for a few weeks earlier in the year, his practice has been busier than ever. With no conference travel forcing him to slow down, he's side-stepped the usual circuit breakers. He's tired.
The week we went looking for whales we should have been in Malaysia. But with international travel banned, The Professor and I threw an overnight bag and our pillows into his big comfortable car and hit the road to explore a little closer to home. He's a born-and-bred Queenslander and I've lived here since the mid-80s. Yet Neither of us had been north to see the cetaceans our coastline is famous for.
From our home in Brisbane we meandered up The Bruce via the Sunshine Coast, spending time at a gallery discovering a local artist, sampling gin and listening to live music at a backyard distillery. We ate too much food for dinner at a great hinterland restaurant, then backed up the next day for breakfast and a long chat with the owners of an organic farm. On Sunday we drove slowly, stopping to explore towns we'd never been to before – Gympie, Tin Can Bay and Maryborough – before arriving at our Hervey Bay digs in time for cocktail hour. In fact, upon reflection, the drinks session that evening might be held to account for the forgotten neck strap and spare battery the next day.
As our morning on the boat unfolded and the whales remained elusive, the epic image I'd hoped for seemed unlikely. Still, I worked hard. I wedged myself against the railing or sat, cross-legged and uncomfortable, on a cushion at the bow, treating my camera like a Gatling gun and every splash as a potential poster.
After an hour or so lurching from one side of the catamaran to the next, following the 'thar she blows' calls of my fellow passengers, I finally put my heavy lens down and went below deck for lunch. And of course, as I chewed on a chicken wing and tucked into a salad, a whale breached nearby. A man with a full-frame camera and lens like a telescope, already the subject of my covetous glances, yelped as he played back his shots. I imagined him picking the matte and frame for his digital masterpiece and muttered more bad words as I put my fork down and checked my battery. One bar left.
With no room for error, I lifted my collar and re-entered the fray, edging my way to the pointy end of the boat. I took aim at the empty horizon, finger poised on the shutter button and dial set to single shot.
Then I waited. And waited some more.
A young girl in a company shirt, who'd spent the day wiping railings and scraping our lunch plates, came and sat beside me. She had a camera. It was a simple DSLR with what looked to be a basic zoom lens. She handled it like a pro and, recognising a kindred spirit, I started to talk. She was the captain's granddaughter and worked for the family business on weekends and school holidays. As she swiped through her photos from that day, showing me the few she liked, her granddad was edging the vessel towards a likely hunting ground in the distance. The cheerful p.a. patter had petered out and a few travelers had swapped cameras for beers. The sun had well and truly passed the yard arm.
Then the young deckhand stopped mid sentence to flick her camera on and push her hat back. Close to the surface and within cooee of the cat, a young whale rolled onto its back before diving gracefully out of sight. My friend and I raised our cameras together, quiet now, holding our breath as we waited and hoped. And then, like a rocket launching, the whale breached the surface completely, flying out of the ocean face-first before slapping onto its back in a shower of spray. I rattled off as many shots as my game finger could handle, blindly pointing my unstrapped lens at the gnarly belly poised in mid-air, as The Professor yelled out "Did you get it? Did you get it?" My young friend and I whooped, grinning as we frantically scanned our images, drafting Instagram captions in our head as we compared shots. And I swear the whale winked.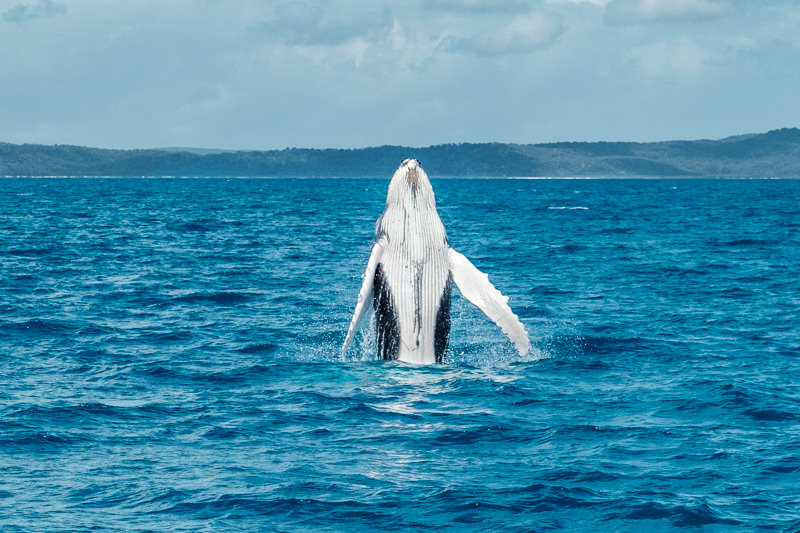 Over the next two hours we saw many more, some swimming beside us as we cruised at higher speeds, others roiling and slapping at the water's surface. I captured some of that joy with my phone, my heavy camera and even weightier expectations now packed away. My valiant battery had finally turned up its toes and my arms ached from brandishing that long lens. But I'd bagged a trophy and was elated.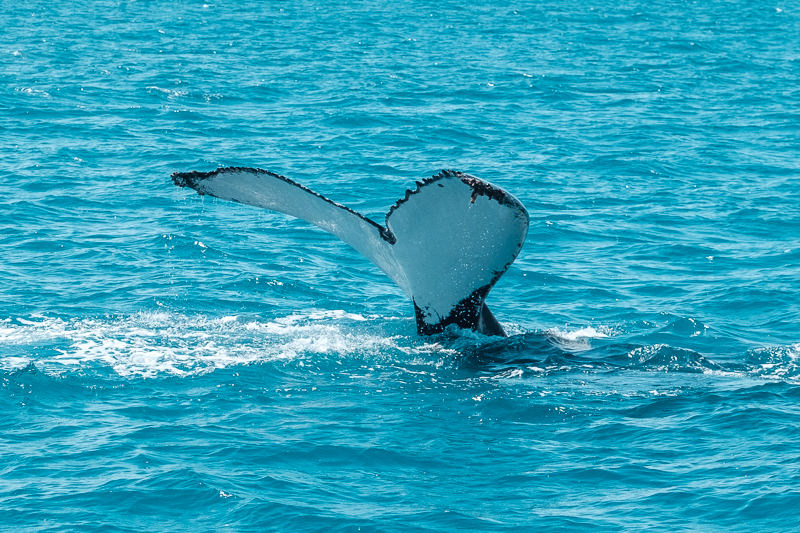 Coincidentally, the day we ventured onto the water, local boaties gathered in the bay to honour Brian Perry, the man credited with starting the whale watching industry in the 1980s's. The 72-year-old died weeks earlier and his family had motored out to spread his ashes. Legend has it the charter boat operator saw an opportunity in the annual whale migration, when he noticed his fishing clients showed as much interest in majestic marine life at play as they did hauling the smaller stuff in on the end of a hook. He and his wife promptly switched from fishing charters to whale watching cruises and spawned a tourism industry now worth more than $35 million to the local economy.
We tell ourselves there are conservation benefits too, as more people learn about marine life and its threatened habitat. Scientists also gather data from photographs like mine to monitor whale health and movements. But this year in particular, it's us, the voyeurs, who are the winners. Whale watching gave me the gift of a day on a boat, spiked with moments of awe when some magnificent mammals took time out of their journey to play. And as we joined other vessels to watch his ashes be dispatched, I offered my own quiet thanks to Brian and his wife for a bright spot in an otherwise dismal calendar.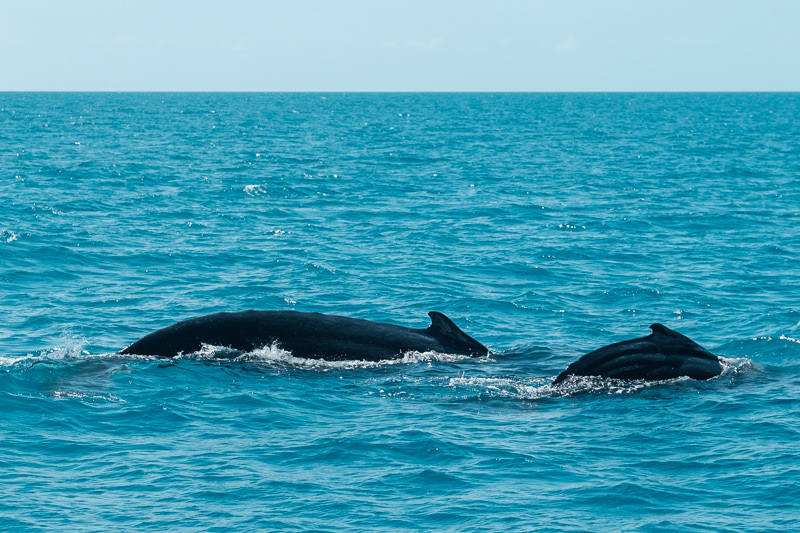 Details of where we played (and have bookmarked for return visits)
Artist Michael Cook at University of the Sunshine Coast Art Gallery