My travel habits
I'm notorious for not researching destinations when I travel. Sometimes this yields serendipitous results, like the time we drove with our two toddlers from San Diego to Las Vegas via the Grand Canyon 20 years ago. As we approached Sin City I looked at my paper map and said to Ben "it looks like we have to cross a big lake". Turns out that blue patch was the Colorado River and we crossed over Hoover Dam, a depression-era engineering marvel. We stopped and did a tour and  congratulated ourselves on our good fortune.
Latest trip to Maryborough
Sadly I can't say the same for my recent visit to Maryborough. In fairness, we were only passing through, stopping to stretch our legs. But the big country town was captivating and I wandered around like a tourist in Tokyo, tripping over myself taking photos.
Mary who?
Maryborough is the birthplace and childhood home of PL Travers, author of Mary Poppins. After leaving town I discovered there's a well-known bronze of the famous fictional nanny on a footpath somewhere. I didn't see that, of course, which is a missed opportunity reminiscent of the Wanaka ducks disaster (see past post for that story). Nevertheless, I like the bronze typewriter I photographed and I'm happy to have snapped this lesser-known monument, a nod to all the letters written during wartime.  I'd rather celebrate the act of writing than some Disney-dusted book character anyway.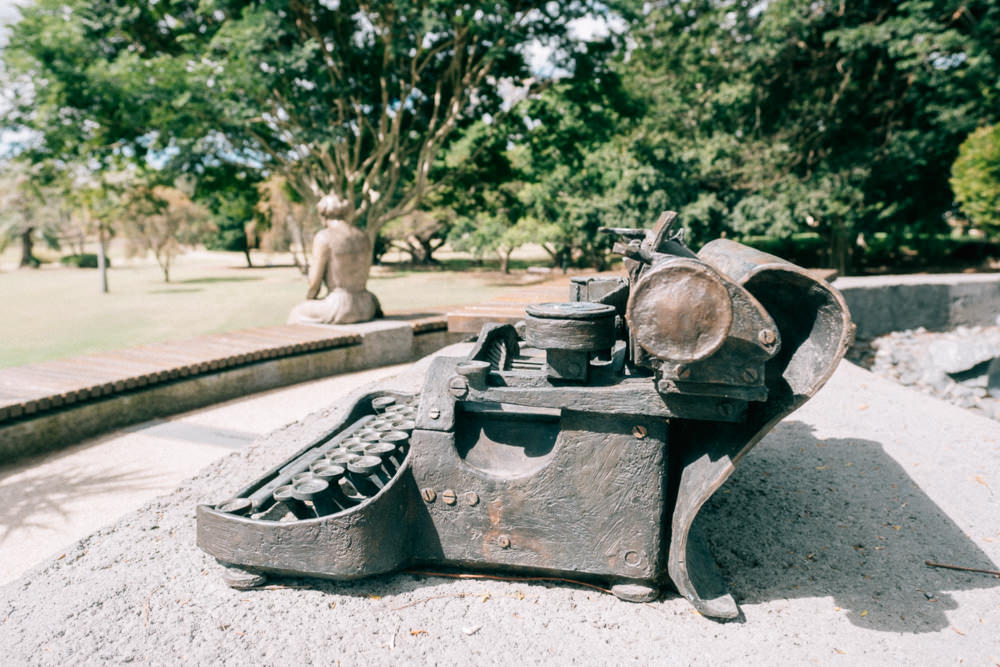 Maryborough buildings
Maryborough was one of Queensland's first ports and many of its original 19th century commercial and government buildings have been preserved and re-imagined as restaurants, cafes and museums. I'd loved to have stopped for coffee but the driver was getting toey. So I took a photo for future reference instead.
Park highlights
A heritage-listed botanical garden, Queens Park, sits on a bend of the Mary River and had me craning my neck to take in some of its older, giant specimens. They're glorious. Can you see a tiny Ben, dwarfed by the Albizia Lebbeck? Of course, if I'd planned this visit, I'd have taken a photo of him among the roots of the 150-year-old Banyan trees just around the corner, which I didn't find but read about once we'd left town.
Maryborough monuments
Much as I love trees, however, it was a human endeavour, the war memorial, that moved me most, especially once I stopped and listened. If you go there, do that. Listen.
So, thanks to a lack of research, our five-minute pit-stop became an hour-long wander and a litany of missed photo opportunities. Oh well. We'll just have to go back one day.