Maybe I should give in and call this column a weekly note? Such has been life's pattern lately.
The craft
Oh there's been writing, tonnes of writing. And my creative talents have been stretched to their limit with the QFA Annual Report*. I agreed to help produce this document during a car conversation en route to yoga a few weeks ago.
Already too zen to think through the time demands, I agreed to act as editor and designer, despite having no design experience and no budget to hire someone who does.
For most of the past two weeks I've been agonising over colour and font choices, losing my mind building tables one tiny cell at a time, frustrated by a mouse moving text boxes just a fraction too far left or right and images that wouldn't scale.
The text was easier.
Time constraints and design imperatives produced a ruthless editor.
I cut the General Manager's report in half in 20 minutes, and where I wrote the words, I churned out perfectly adequate prose in one third the time it usually takes me.
Deadlines are a wondrous thing.
And in the midst of this chaos, I found time to write a short piece on the history of women in fencing, published by the Australian Fencing Federation on International Women's Day. That was fun.
None of this work is ground-breaking or particularly inspired writing, and I didn't earn a bean. But it's writing and it's being read, which is gratifying if not lucrative.
A date
Last Sunday I hung out with my good friend Louis. We went to a birthday party at Inflatable World, a vast tin shed with skylights to magnify the sun's rays and increase water sales.
One side housed two netted cricket pitches, where teams of chubby, stubbly men rolled around like teenagers in synthetic sports shirts.
The other held a playground of inflated playthings; castles, slides and jumping rings – all heaving with screaming, red-faced children.
Teenagers in aqua polo shirts patrolled the floor with spray bottles, squirting anyone too boisterous with a gentle mist.
Parents looked on from mezzanine floor above, fanning themselves and rearranging untouched plates of sausage rolls and Cheezels, constantly checking their watches.
Louis loved it, but he also seemed happy hanging out by himself at my house later on, a willing model in the pool as I tested some settings on my new camera.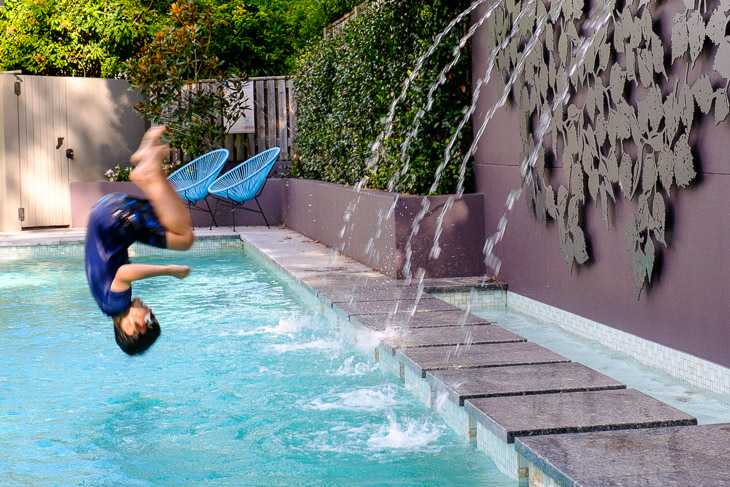 Modern Women
Today I ignored a grubby kitchen and overflowing laundry hampers to attend the opening day of QAGOMA's latest exhibition O'Keefe, Preston, Cossington Smith – Making Modernism.
I loved it.
I went to a panel discussion by three of the curators and later to a guided tour of the exhibition, also by the curators. It was such a treat to hear experts speak about the art and the artists and I resolve to do this more often.
As the curators spoke about modernism and the threads which bind these three distinctive artists' styles, I was struck by the parallels with writing.
These artists are lauded for distilling place and objects to their essence.
The power of their work is not the subject matter itself but what they do with it, how they make us see it in their use of colour and line.
I take comfort in their success, inspired to keep prattling about the mundane while developing my own palette and story-telling style.
An epic tome may never eventuate, but daily musings might prove to have some artistic merit of their own.
For the record
The Athlete won gold at a Victorian state open tournament today, beating the reigning national champion – an Olympian, hero and mentor – in the final. She came back from 11-14 down to win 15-14 in overtime. By her own account she fenced her socks off, elevating her game to the next level and finding a mongrel determination to win that's been missing since her surgery-induced hiatus last year. She's happy and I reckon her confidence is bolstered as she prepares for the year's first national competition in a couple of weeks. I'm looking forward to watching her.
*If anyone follows the link to read this and finds a typo I do not want to hear about it